2023-08-27
Press Release
~Located just a 20-minute drive from Furano Ski Resort, this prime location is highly recommended as a base for skiing and snowboarding. Introducing the "Furano Log House Farm Resort," where you can experience the charm of each season firsthand!
With a mission to create a society where people worldwide can choose the best experiences, and through the power of technology and design, continue to be "something for someone," Kuukan Inc. (Headquarters: Sapporo City, Representative Director: Kentaro Yamamoto, hereinafter referred to as "the Company"), deeply rooted in the inbound sector within Hokkaido, announces the commencement of homestay facility operations in the Furano area.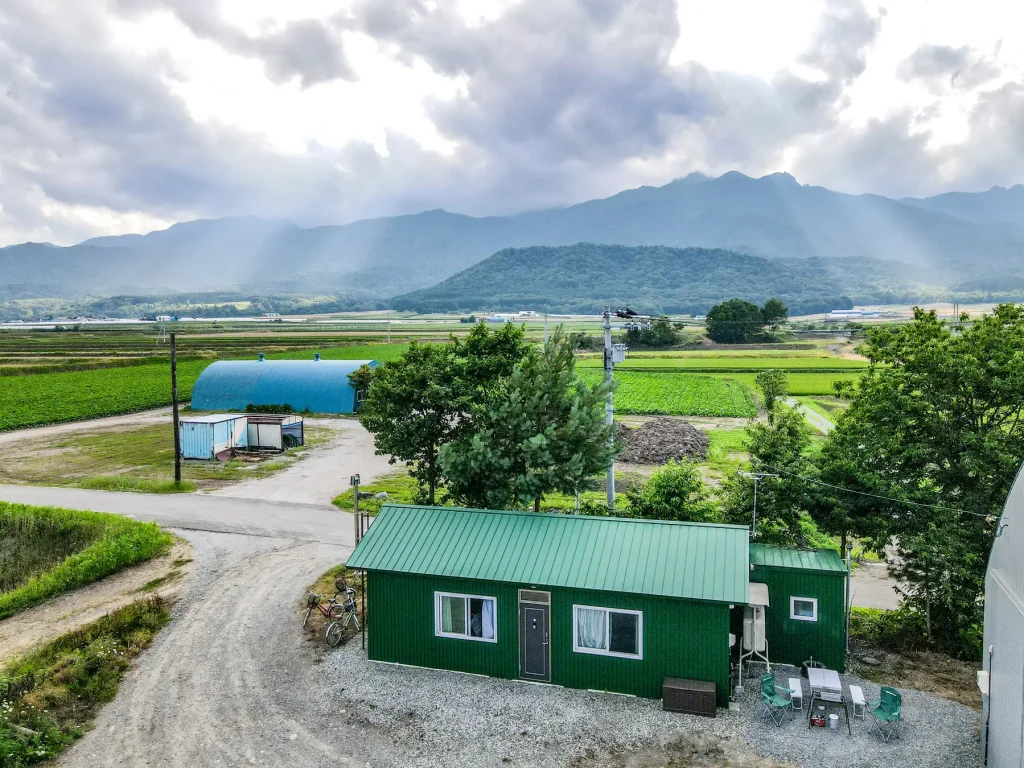 As a company deeply rooted in the inbound sector within Hokkaido, we have been expanding homestay facilities primarily in resort areas across the prefecture, such as Niseko, Furano, and Lake Toya.
This time, we have renovated a single-story house located in the Yamabe area of Furano City into an accommodation facility. We are excited to introduce the "Farm Resort," or "Furano Log House Farm Resort," a hidden oasis for experiencing nature.
Nestled quietly amidst lush farm landscapes, this facility provides a true haven where one can escape the hustle and bustle of the city and find genuine tranquility. With a maximum capacity of six guests, it's perfectly suited for group use.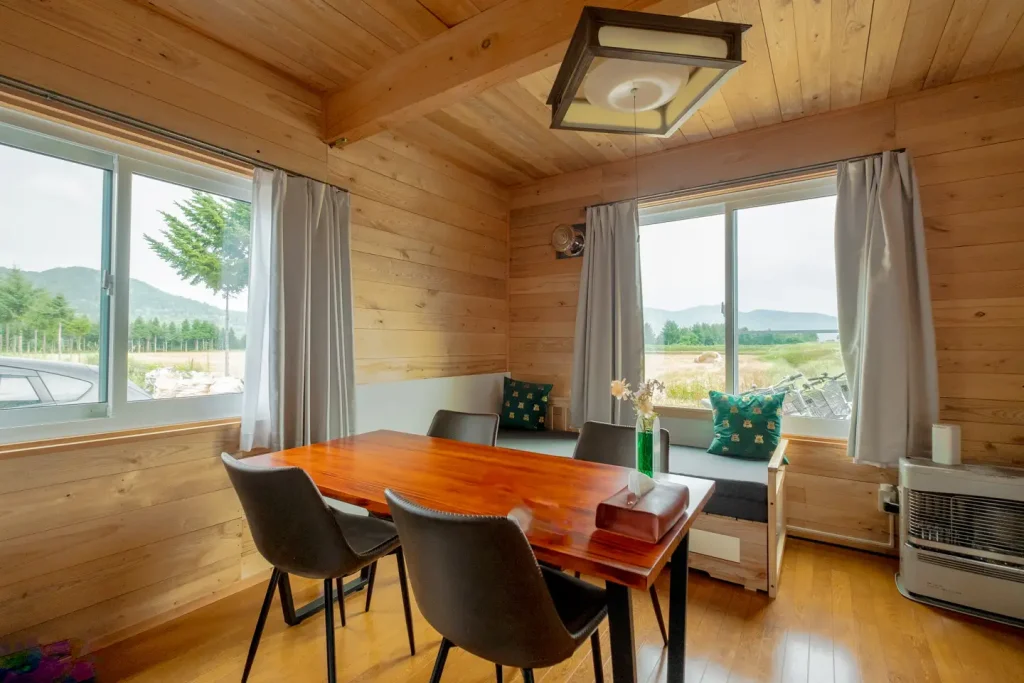 During the day, you can enjoy the magnificent rural landscapes, and at night, you can indulge in the beautiful starry sky, experiencing the charm of Furano to the fullest!
Our facility is a special place where you can overlook the stunning landscapes of vast rural areas. When you wake up in the morning, you'll be greeted by a beautiful panoramic view of the countryside stretching out from your window, allowing you to experience the charm of each season.
And as the evening approaches, the pastoral scenery is bathed in golden hues, creating a beauty reminiscent of a painting.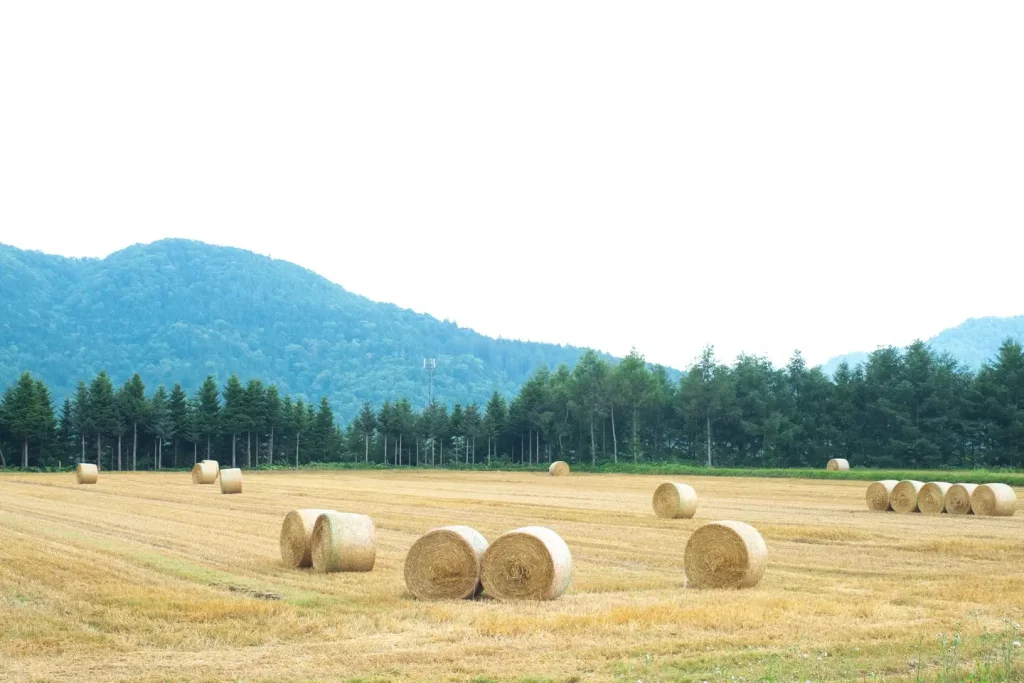 However, its allure doesn't confine itself to just the daytime. As night falls, an awe-inspiring canopy of stars unfolds, a sight rarely seen in urban areas. Countless stars embellish the night sky, their beauty truly breathtaking.
Gazing up at the night sky shrouded in deep silence, you can forget the hustle and bustle of daily life and immerse yourself in tranquil moments. Furano Log House Farm Resort is indeed an accommodation that allows you to fully experience the richness of Furano's nature, both day and night.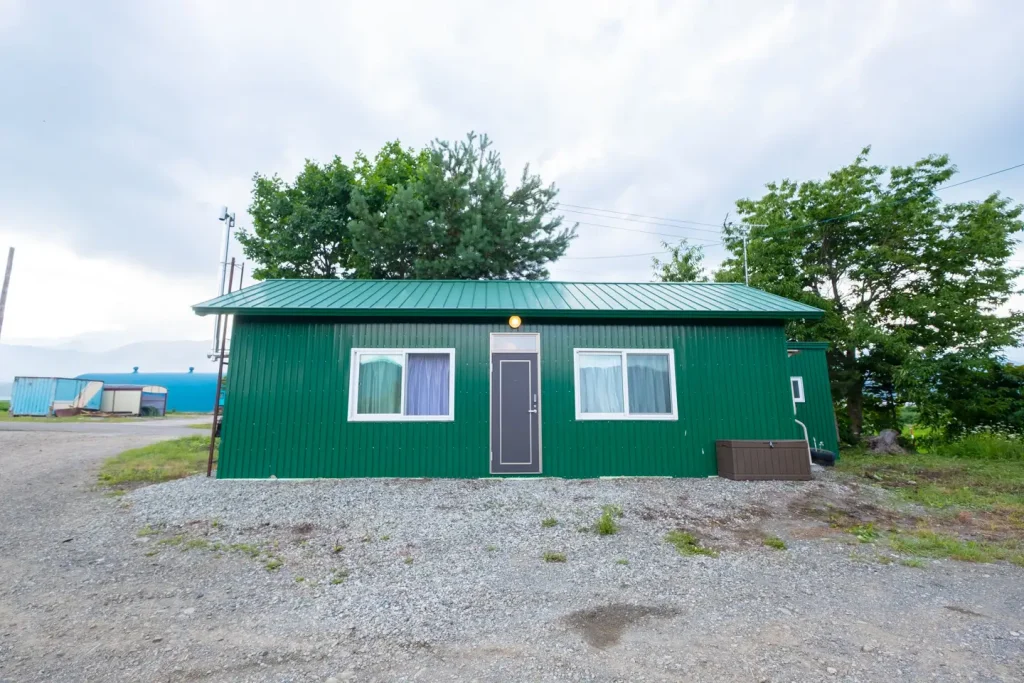 Highly recommended for outdoor enthusiasts and those looking for a base for activities such as skiing!
Our facility is a "hidden gem" for active travelers, offering various experiences throughout the four seasons.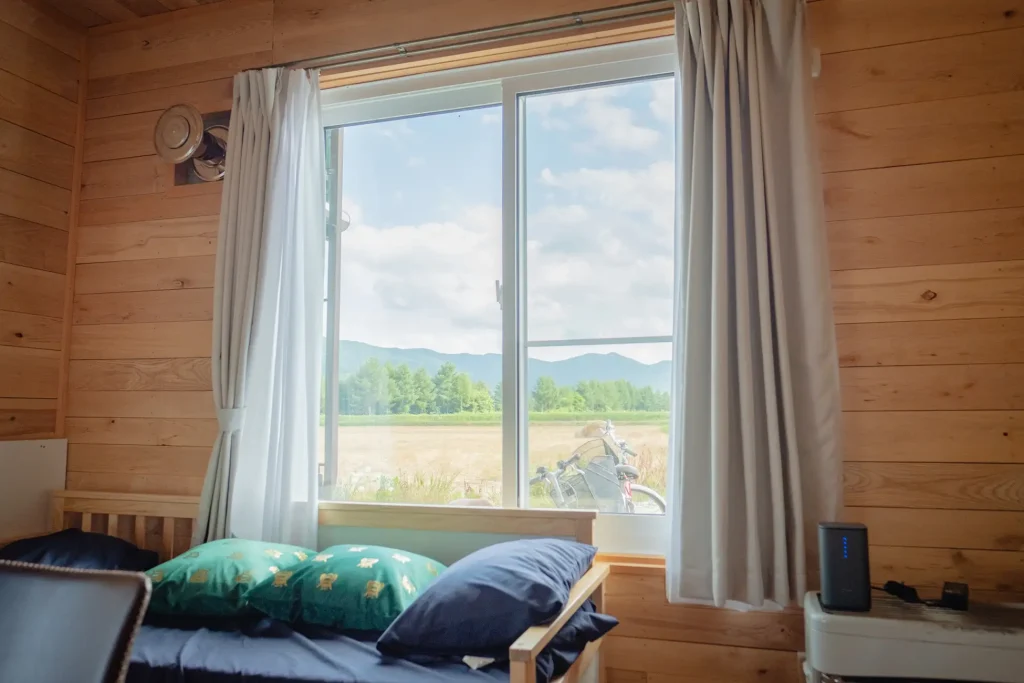 During the summer, we highly recommend the barbecue held in the garden beneath Furano's beautiful blue sky. With your family and friends, you can enjoy delicious meals while experiencing nature firsthand.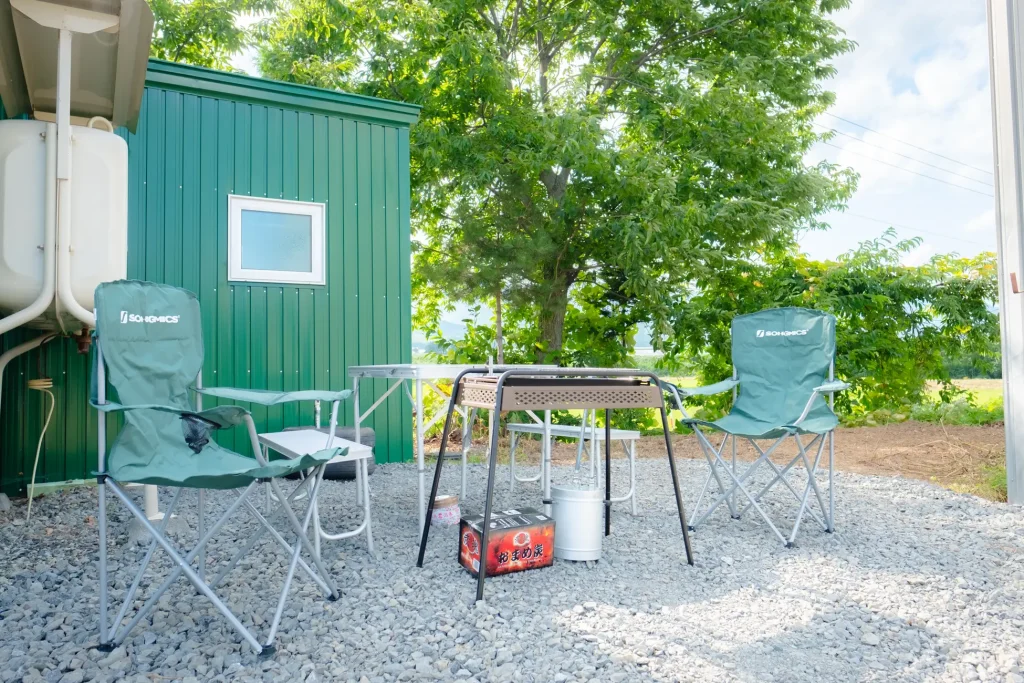 We also provide complimentary equipment for you to enjoy the barbecue, including table sets, chairs, grills, tongs, and mosquito repellent incense. Please bring your own additional BBQ items such as charcoal, fire starter, grilling rack, and disposable plates & cups.
Surrounded by beautiful rural landscapes, you can forget the hustle and bustle of the city and truly relax. ※Please assist in the proper disposal of BBQ waste, handling of charcoal, and cleaning of grills after use.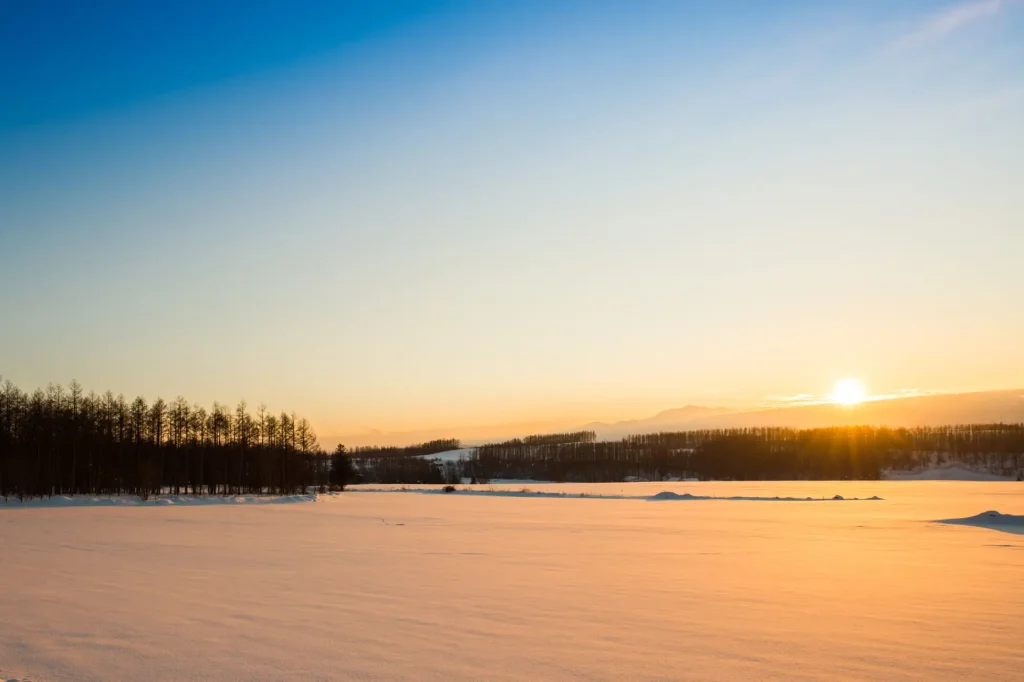 And then comes winter. Furano has recently gained popularity as a winter outdoor sports destination to the point of being dubbed the "Second Niseko." The central Furano Ski Resort is just a 20-minute drive away. Whether you're a beginner or an advanced skier, this accommodation can serve as an ideal base for everyone enjoying skiing. After gliding down the spacious slopes, you can find comfortable rest at the facility and conclude your day while gazing at the stars.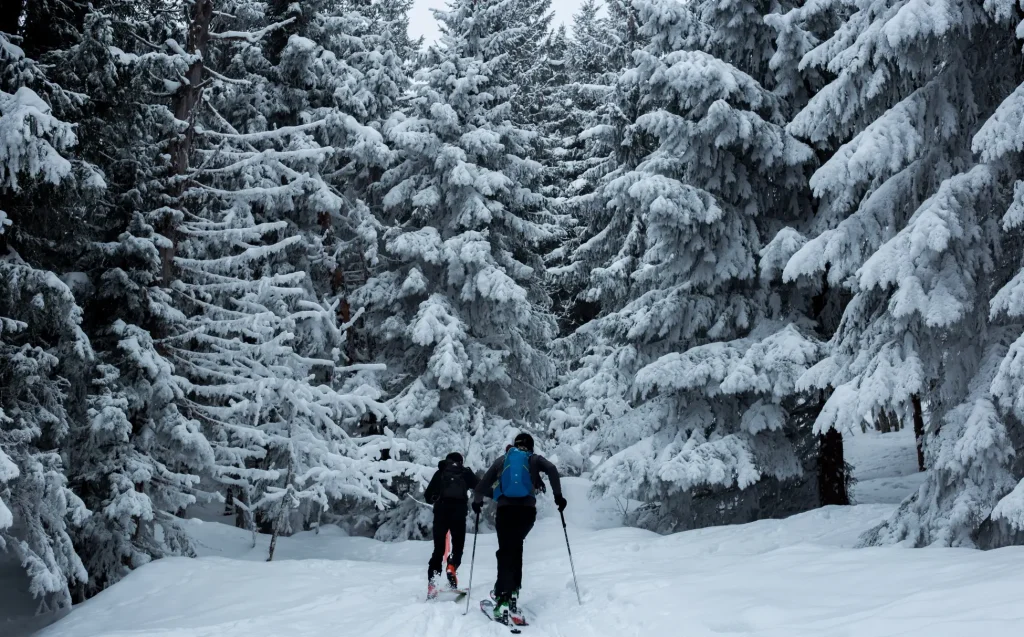 For families who enjoy spending time with nature during the summer and sports enthusiasts who pour their passion into skiing during the winter. Throughout all seasons, Furano Log House Farm Resort serves as the perfect place for all guests to fully experience the charm of Furano.
Unique to a farmhouse! Warm interior filled with a sense of wood.
Our facility offers a space with a warm and natural ambiance through abundant use of wood in the interior design.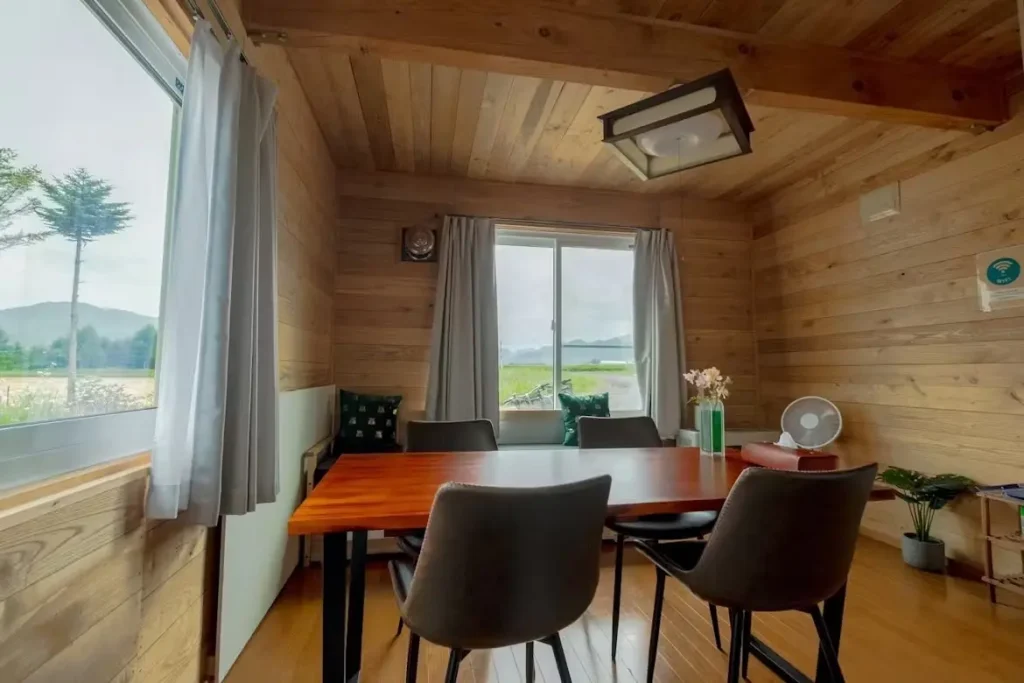 From the ceiling to the floor, the unique interior of the log house, where you can feel the warmth of wood everywhere, enhances the comfort of your leisurely moments. Through the windows, the surrounding rural landscape extends, creating a perfect match with the indoor ambiance.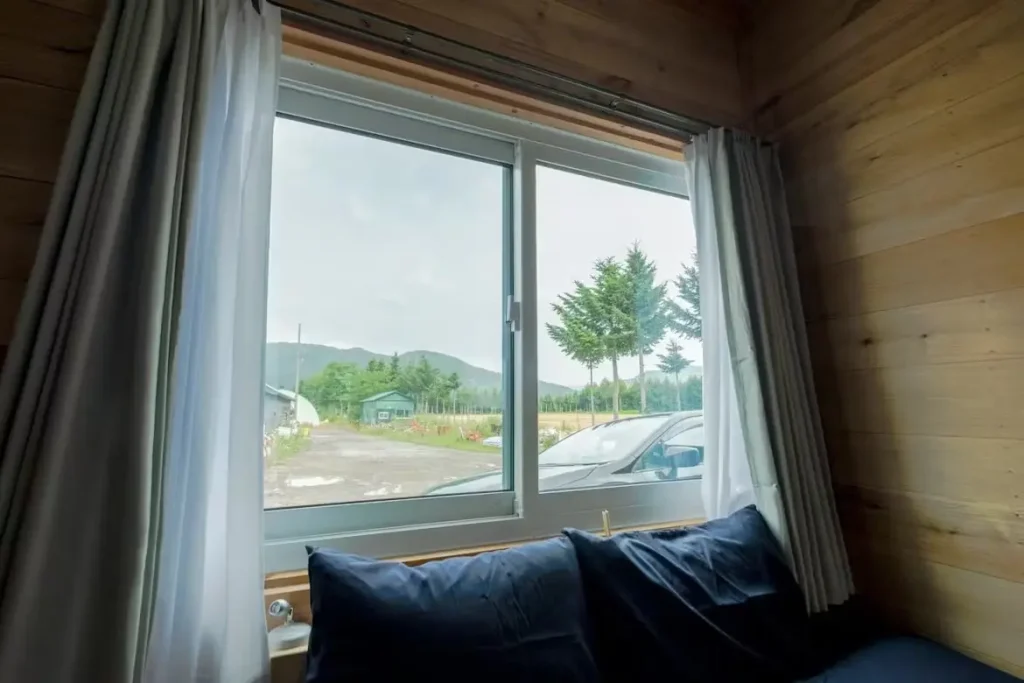 The interior, where you can feel the warmth of wood, provides a unique space that can only be experienced here. We invite you to savor this tranquility and comfort with your own senses.
A hidden oasis for experiencing nature under Furano's starry skies: "Farm Resort."
At our facility, you can experience moments of bliss amidst the vast nature of Furano. During the day, the magnificent rural landscapes, and at night, the panoramic starry sky stretching 360 degrees will fill your heart with contentment.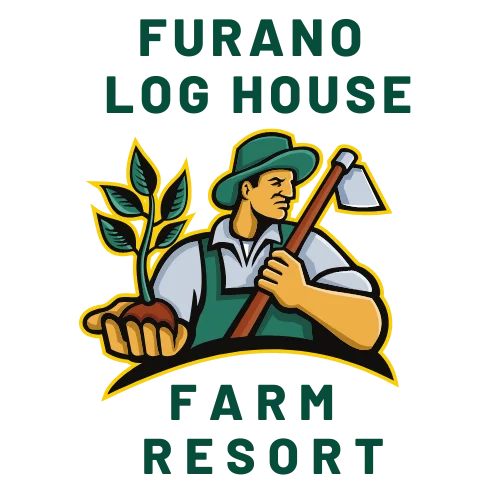 Our facility is also recommended for enjoying various activities throughout the seasons. In the summer, you can indulge in BBQs in the garden, while in the winter, skiing allows you to fully appreciate Furano's nature and environment.
The unique interior of the log house, exuding the warmth of wood, harmonizes perfectly with the breathtaking scenery visible through the windows, making the time spent in the rooms even more special.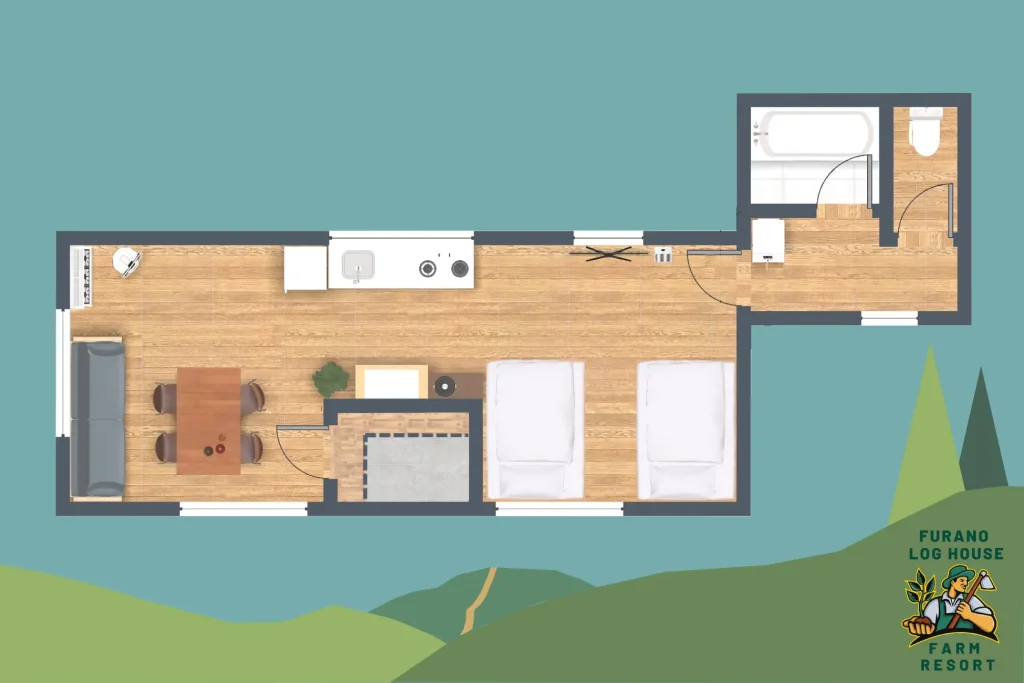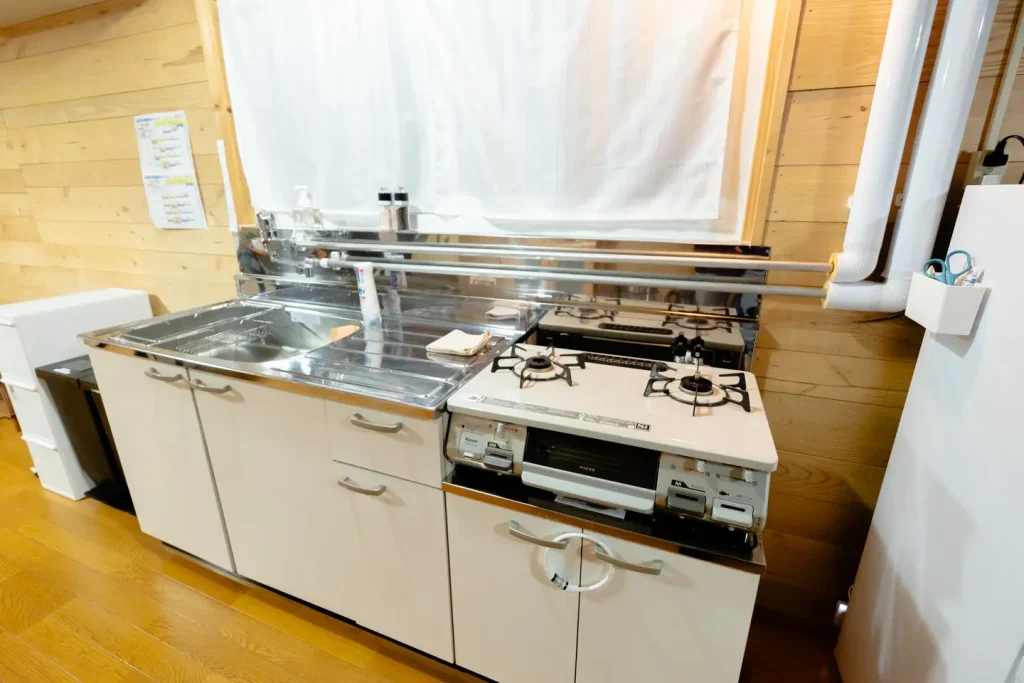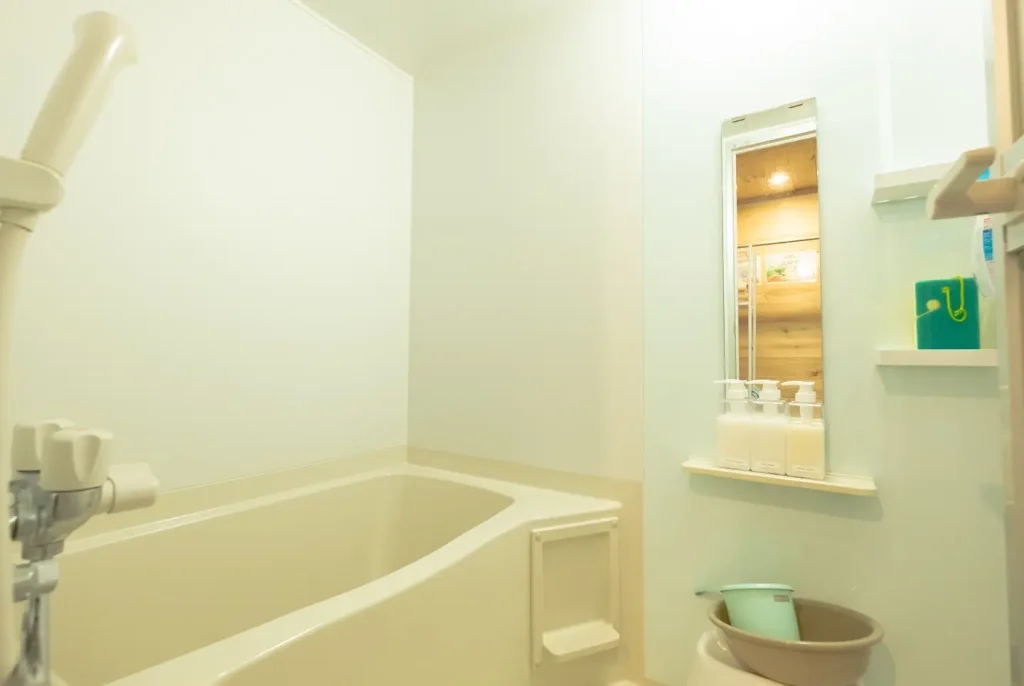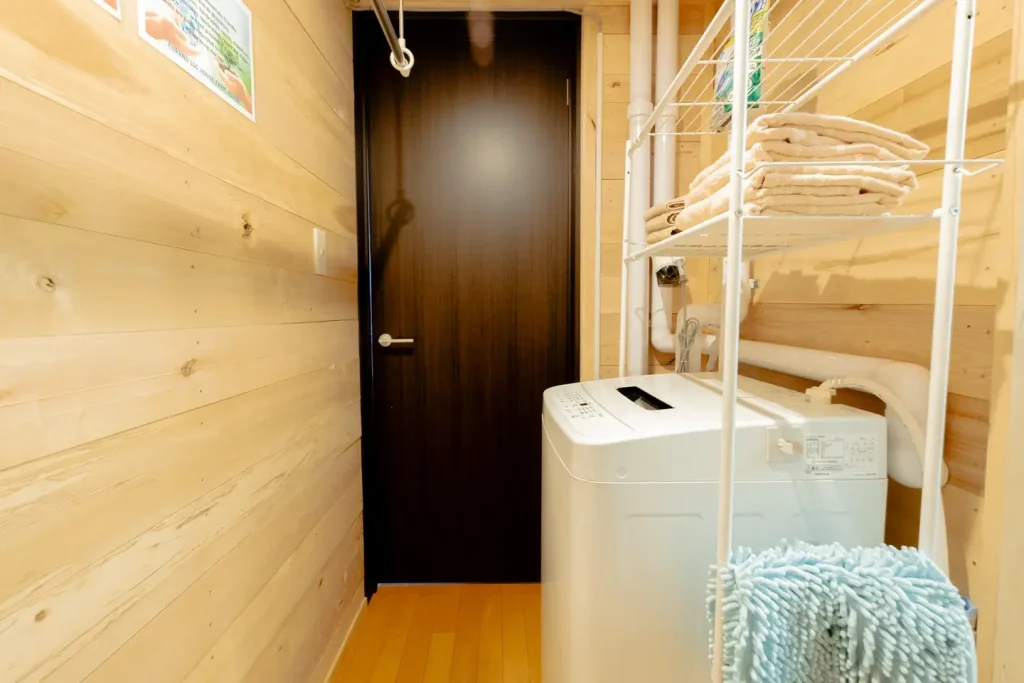 Why not escape the hustle and bustle of the city and enjoy the beautiful nature of Furano? A priceless moment awaits you at Furano Log House Farm Resort.
Facility Information
Living/Bedroom 32-inch TV / Wi-Fi / Double Bed × 2 / Sofa Bed (Double) × 1
Dining Dining Table / Chairs × 4 / Fan
Kitchen Gas Stove (2 burners) / Refrigerator / Microwave / Toaster / Electric Kettle / Rice Cooker / Knife / Cutting Board / Pots and Pans / Cookware / Tableware / Chopsticks / Cups / Wine Glasses / Seasonings (Salt, Pepper, Soy Sauce, Olive Oil)
Amenities Towels / Bath Towels / Shampoo / Conditioner / Body Wash / Hand Soap / Hair Dryer
Shower / Washbasin / Washing Machine (Detergent provided) * If you need fabric softener, please bring your own.
Toilet Toilet Paper / Deodorizer
Other (Facility Equipment / Supplies) Trash Bin / Scissors / AAA Batteries / BBQ Equipment
Features / Surrounding Information
Long-term stays OK / Monthly rentals OK Furano, located in the heart of Hokkaido, attracts tourists with its vibrant lavender fields and fantastic skiing conditions. This area is renowned for its beautiful nature throughout the seasons and abundant activities.
Policy
Safe and Comfortable Accommodation For the time being, we are operating as a non-contact accommodation facility. Check-in is facilitated through a keybox. Cleaning and disinfection are carried out by professional cleaners following strict guidelines for hygiene and sanitization.
Abundant Surroundings Experience the awe-inspiring nature with a view of Furano's mountains. You can immerse yourself in the grandeur of Hokkaido's unique landscapes.
〈Facility Overview〉
| | |
| --- | --- |
| Facility Name | Furano Log House Farm Resort |
| Reservation Website | Accommodation:https://kukan.airhost.co/en/houses/463406 |
| Address | Yamabe Higashi, Furano City, Hokkaido |
| Accommodation Type | Private Room Rental |
| Number of Guests | Up to 6 people maximum |
〈Company Overview〉
| | |
| --- | --- |
| Company Name | Kukan Inc. |
| URL | https://kukanhokkaido.co.jp/ |
| Headquarters | 2F, Sharm Toyohira, 4-3-1-1, Toyohira 4-jo, Toyohira-ku, Sapporo-shi, Hokkaido |
| Established | November 29, 2022 |
| Capital | 1,000,000 yen |
| Representative | Kentaro Yamamoto |
〈Business Activities〉
1.Tourism Media Business, Tourism Project Management Business, Tourism Content Business
2.Vacation Rental and Villa Management Business, Inbound Marketing Business
3.Regional Revitalization Business